Jurnal APLIKASI SISTEM PAKAR UNTUK DIAGNOSA PENYAKIT CAMPAK DAN PENCEGAHAN DENGAN METODE FORWARD CHAINING BERBASIS WEB
APLIKASI SISTEM PAKAR UNTUK DIAGNOSA PENYAKIT CAMPAK DAN PENCEGAHAN DENGAN METODE FORWARD CHAINING BERBASIS WEB
Keywords:
sistem pakar, diagnosa campak, Forward Chaining
Abstract
ABSTRAK
            Pada saat ini perkembangan teknologi dan komunikasi dari waktu ke waktu terasa semakin pesat. Salah satu aplikasi dibidang komunikasi adalah sistem pakar. Program aplikasi sistem pakar   yang dirancang adalah sistem pakar untuk mendiagnosa penyakit seperti penyakit campak. Dengan adanya program aplikasi ini diharapkan orang awam yang kurang pengetahuan tentang penyakit campak akan menjadi lebih mengetahuinya. Kemudian aplikasi ini mudah penggunaannya dalam mendiagnosa penyakit campak tanpa harus pergi ke dokter, serta mudah diakses dimana pun dan kapan pun. Metode pelacakan yang digunakan adalah metode penalaran forward chaining (pelacakan ke depan). Program ini dirancang dengan menggunakan media pemrograman PHP (Hypertext Preprosessor) dan menggunakan database MySQL sebagai penyimpanan data yang tujuannya agar tampilan dapat lebih menarik dan mudah dalam penggunaannya, juga bisa diakses internet. 
            Kata Kunci : Sistem Pakar, Diagnosa Campak, Forward Chaining
                                                          ABSTRACT
          At this time the development of technology and communication from time to time seem more rapidly. One application in the field of communication is an expert system. Expert system application program is an expert system designed to diagnose diseases such as measles. With the application program is expected to lay people who lack knowledge of measles will be more informed. Then the application is easy to use in diagnosing measles without having to go to the doctor, as well as easily accessible wherever and whenever. Tracking method used is a forward chaining reasoning method (tracking ahead). The program is designed using PHP programming media (Hypertext Preprosessor) and uses a MySQL database as a data storage objective that can display more attractive and easy to use, can also be accessed internet. Keywords : Expert System, Diagnosis Measles, Forward Chaining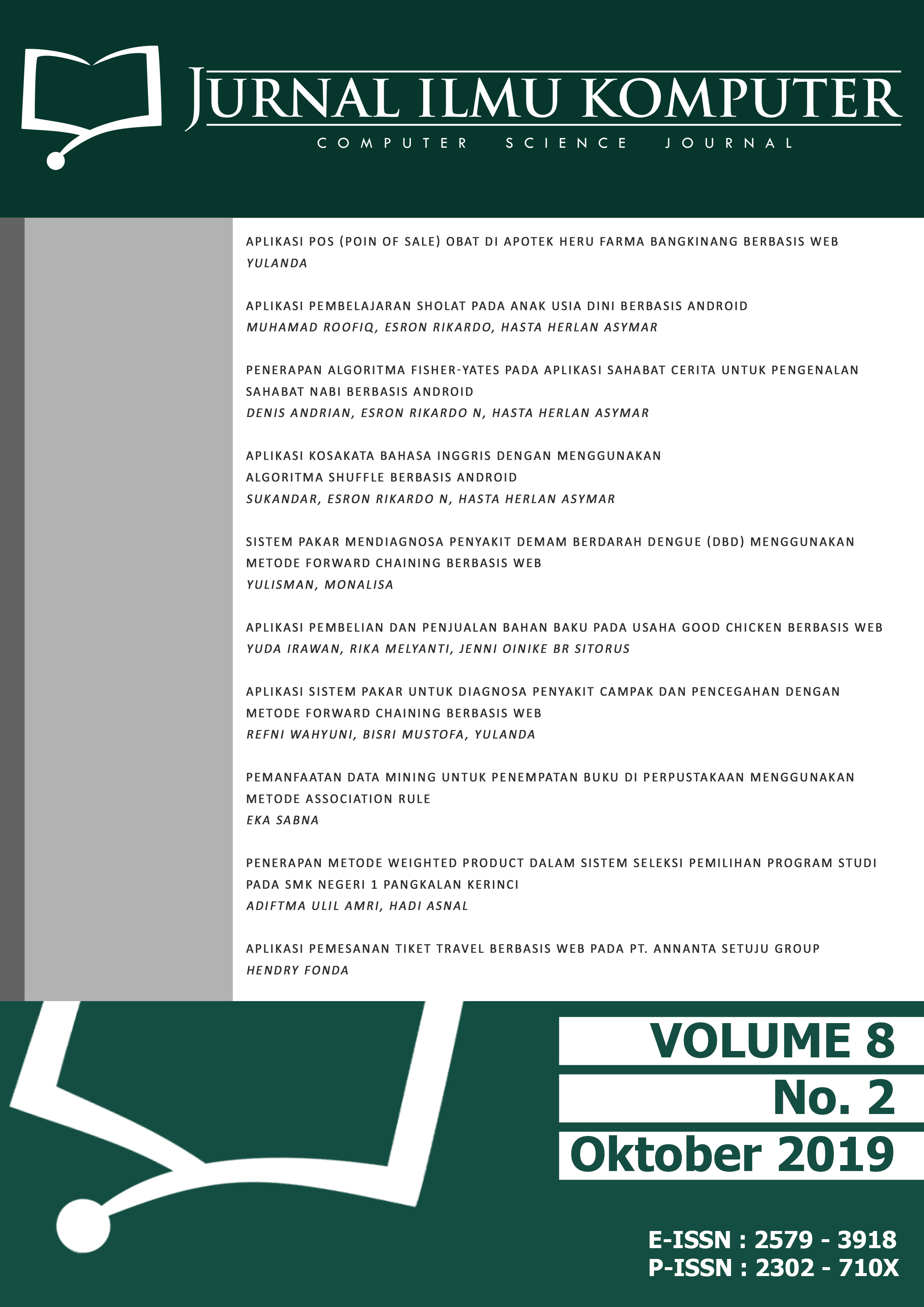 Copyright (c) 2019 Jurnal Ilmu Komputer
This work is licensed under a Creative Commons Attribution-NonCommercial-ShareAlike 4.0 International License.