Penerapan Algoritma Fisher-Yates Pada Aplikasi Sahabat Cerita Untuk Pengenalan Sahabat Nabi Berbasis Android
Keywords:
Android, Application, Companions of the Prophet, Fisher-Yates Shuffle, Waterfall
Abstract
The introduction of the exemplary figures of the Companions of the Prophet was needed as a means of children's learning in behavior and religion, so that children have better role models to emulate. Exemplary stories in book form are sometimes less interactive. The introduction of role models who can be accessed at any time is needed, so that it can facilitate the learning process. Almost all aspects of human life can not be separated from smartphones. The use of smartphones also includes not only adults but also children. Android is a smartphone operating system that is in demand by all circles of society today. Making this application is designed using Android Studio 3.2 software and using the Java programming language. System development uses the waterfall model including analysis, design, implementation, testing and maintenance. This application displays a variety of exemplary stories from the Prophet's companions in the form of animated stories and videos, by using the Fisher-Yates Shuffle algorithm method which is a form of randomization of questions so as to make the question not boring. This application is expected to be one of the learning media for parents to accompany their children by utilizing an Android operating system smartphone
Downloads
Download data is not yet available.
References
Amini, M. (2014). Hakikat Anak Usia Dini, 1–43.
Hadiatama, I., Cepy, S., & Rahman, D. F. (2016). FUZZY TSUKAMOTO DALAM GAME KUIS TEBAK, I(1), 51–58.
Mustaqbal, M. S., Firdaus, R. F., & Rahmadi, H. (2015). PENGUJIAN APLIKASI MENGGUNAKAN BLACK BOX TESTING BOUNDARY VALUE ANALYSIS (Studi Kasus : Aplikasi Prediksi Kelulusan SNMPTN), I(3), 31–36.
Putra, D. W., Nugroho, A. P., & Puspitarani, E. W. (2016). GAME EDUKASI BERBASIS ANDROID SEBAGAI MEDIA PEMBELAJARAN UNTUK ANAK USIA DINI, 1(1), 46–58.
Sasmito, G. W. (2017). Penerapan Metode Waterfall Pada Desain Sistem Informasi Geografis Industri Kabupaten Tegal, 2(1), 6–12.
Umar, M. (2015). PERANAN ORANG TUA DALAM PENINGKATAN PRESTASI BELAJAR ANAK, 1, 20–28.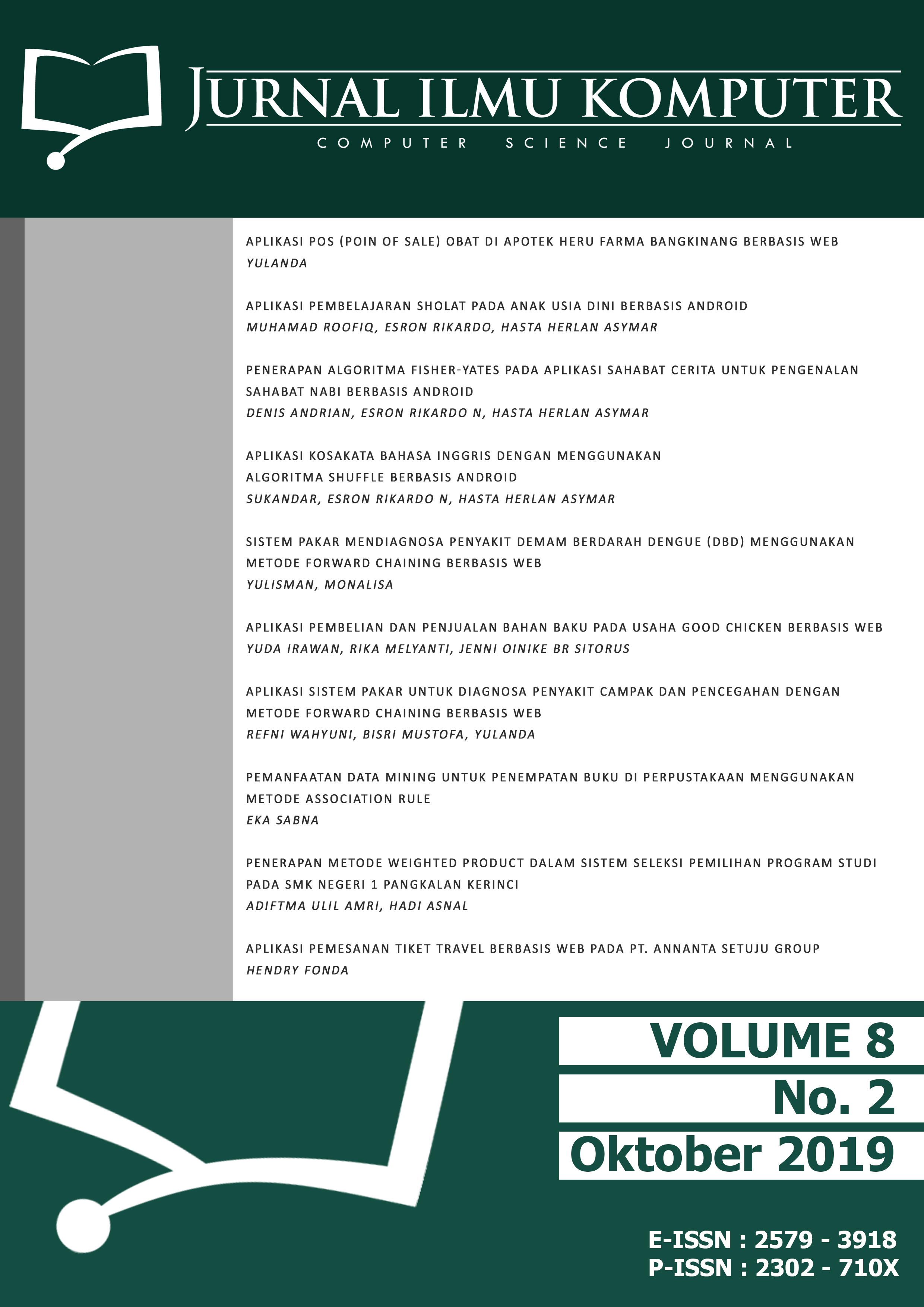 How to Cite
Andrian, D. (2019). Penerapan Algoritma Fisher-Yates Pada Aplikasi Sahabat Cerita Untuk Pengenalan Sahabat Nabi Berbasis Android. Jurnal Ilmu Komputer, 8(2), 16–23. https://doi.org/10.33060/JIK/2019/Vol8.Iss2.134