SISTEM E-WISATA PADA DINAS PARIWISATA DI KOTA PEKANBARU BERBASIS ANDROID
Keywords:
Android, Pariwisata, Kuliner
Abstract
The use of smartphones using the android operating system now is greatly improved, this smartphone device can all be done with a variety of embedded applications or that will be downloaded at flatform available. with ease in this android device users can access all kinds of information about attractions, hotels and culinary in Pekanbaru. Moreover, in the current discourse on development of tourist information in Indonesia are very vigorous in order for domestic and foreign tourists coming to Indonesia to see tourism in indonesia. In this tourism city of Pekanbaru do activities to develop tourism in the city of Pekanbaru to be known and can be visited by tourists. In order to be known and visited by tourists with the use of applications of E-tourism in the city of Pekanbaru, tourist spots, hotels and culinary in Pekanbaru easily accessible simultaneously on your android device already installed applications E-city tours Pekanbaru. With the ease of the application it will facilitate travelers to select tourist attractions, hotels and culinary in Pekanbaru. This application is very useful for supporting information to be provided by the Tourism Office of the city of Pekanbaru, and would be likely to be application that provides information on travel destinations and simultaneously accessing the nearby residence while existing in Indonesia as a whole and detail.
Downloads
Download data is not yet available.
References
1. Bunafit Nugroho.(2008),Aplikasi Pemrograman Web Dinamis Dengan PHP danMySQL,Gava Media,Yogyakarta.

2. Ian Summerville (2011). Software engineering, Massachuset: Perason Education.Icn
3. H. Oka A. Yoeti. Drs., MBA.2002. Perencanaan Strategis Pemasaran Daerah Tujuan Wisata. Penerbit PT. Pradnya Paramita, Jakarta.

4. Jogiyanto, HM. (2001). Sistem teknologi informasi. Yogyakarta: Andi Cipta.

5. Kadir, A. (2008). Belajar database menggunakan mysql. Yogyakarta: Andi

6. Susanto, A. (2010). Analisapengembangan data.Diperolehpadatanggal 22 Februari 2014 darihttp://repository.uinjkt.ac.id/dspace/bitstream/123456789.pdf.

7. Prahasta, Eddy. 2009. Sistem Informasi Geografis Konsep-Konsep Dasar(Perspektif Geodesi dan Geomatika). Bandung : Informatika.

8. Rini Agustina, S.Kom, M.Pd (2012) Pemrograman Aplikasi Android

9. Sutabri, T. (2003). Analisa sistem informasi. Yogyakarta: Andi

10. McLeod (2004) dikutip oleh Yakub dalam buku PengantarSistem Informasi (2012:1)

11. https://id.wikipedia.org/wiki/Elektronika Diperoleh pada tanggal 27 februari 2016
http://id.m.wikipedia.org/wiki/Bahasa_pemrograman Diperoleh pada tanggal 28 Februari 2016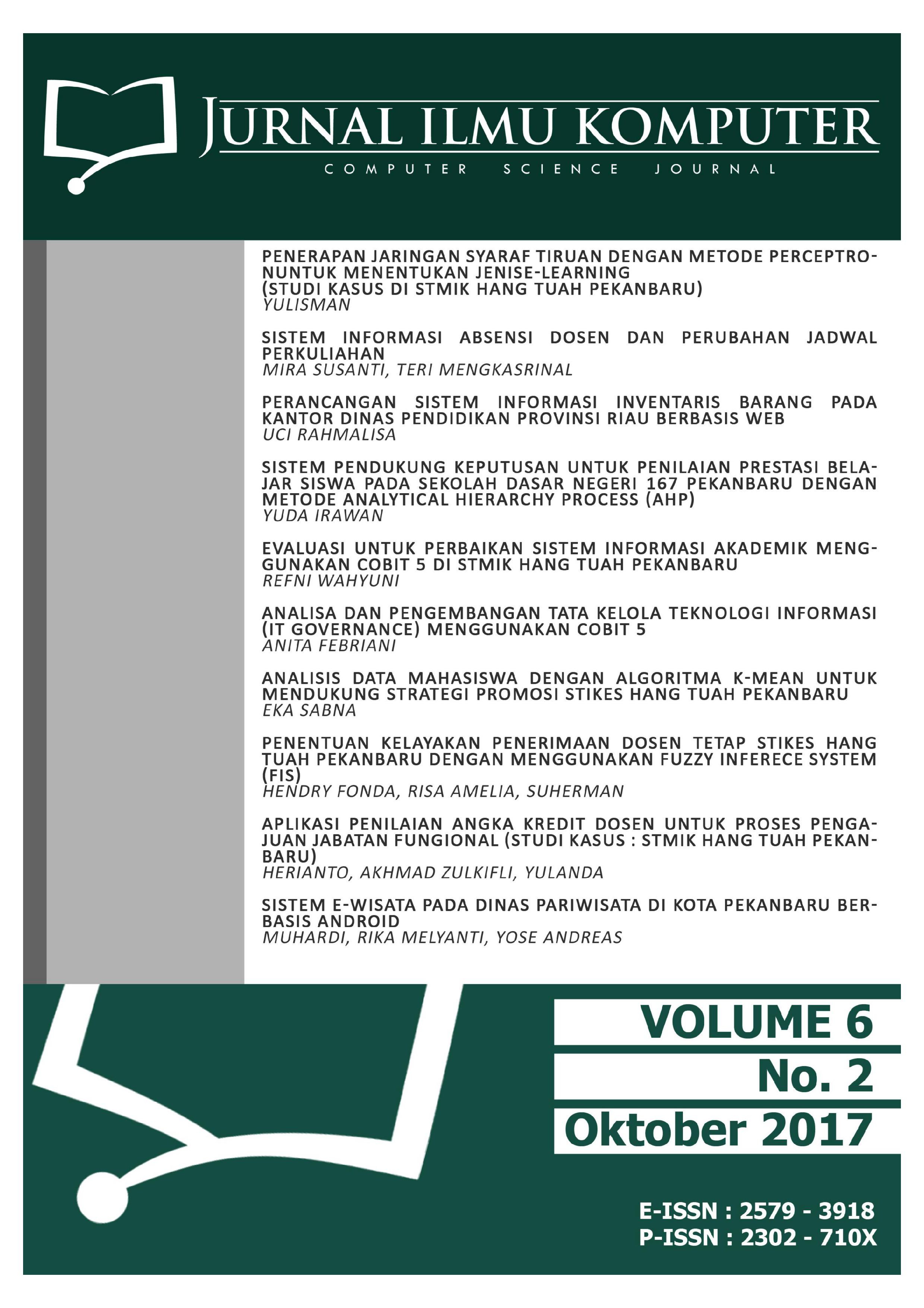 Downloads