ANALISIS DATA MAHASISWA DENGAN ALGORITMA K-MEAN UNTUK MENDUKUNG STRATEGI PROMOSI STIKes HANG TUAH PEKANBARU
Keywords:
New Student Data, Promotion, Data Mining, K-Means, CRISP-DM
Abstract
New student data owned by STIKes Hang Tuah Pekanbaru has been in large numbers with many variations of attributes stored in the database (database). But the data data has not been utilized optimally, therefore in need of a method that can dig and extract the new student data into a valuable information strategic. This study aims to classify the data of New Students of STIKes Hang Tuah Pekanbaru by using Data Mining Technique. Data Mining Technique used is Clustering Technique with K-Means algorithm and for process used CRISP-DM method. This research is used to determine the right Promotion Strategy. Determining the right promotional strategy will be able to reduce promotional costs and achieve the right promotional goals.


Downloads
Download data is not yet available.
References
Agusta, Y. 2007. K-Means – Penerapan, Permasalahan dan Metode Terkait. Jurnal Sistem dan Informatika Vol 3 (Februari 2007): 47-60.

Daniel T. Larose, 2005, Discovering Knowledge in Data: an Introduction to Data Mining, John Wiley & Sons

Kusrini dan Emha Taufiq Luthfi.2009. Algoritma Data Mining. Jakarta : Graha Andi.

Santosa, B. 2007 Data Mining: Teknik Pemanfaatan Data untuk Keperluan Bisnis, Yogyakarta: Graha Ilmu.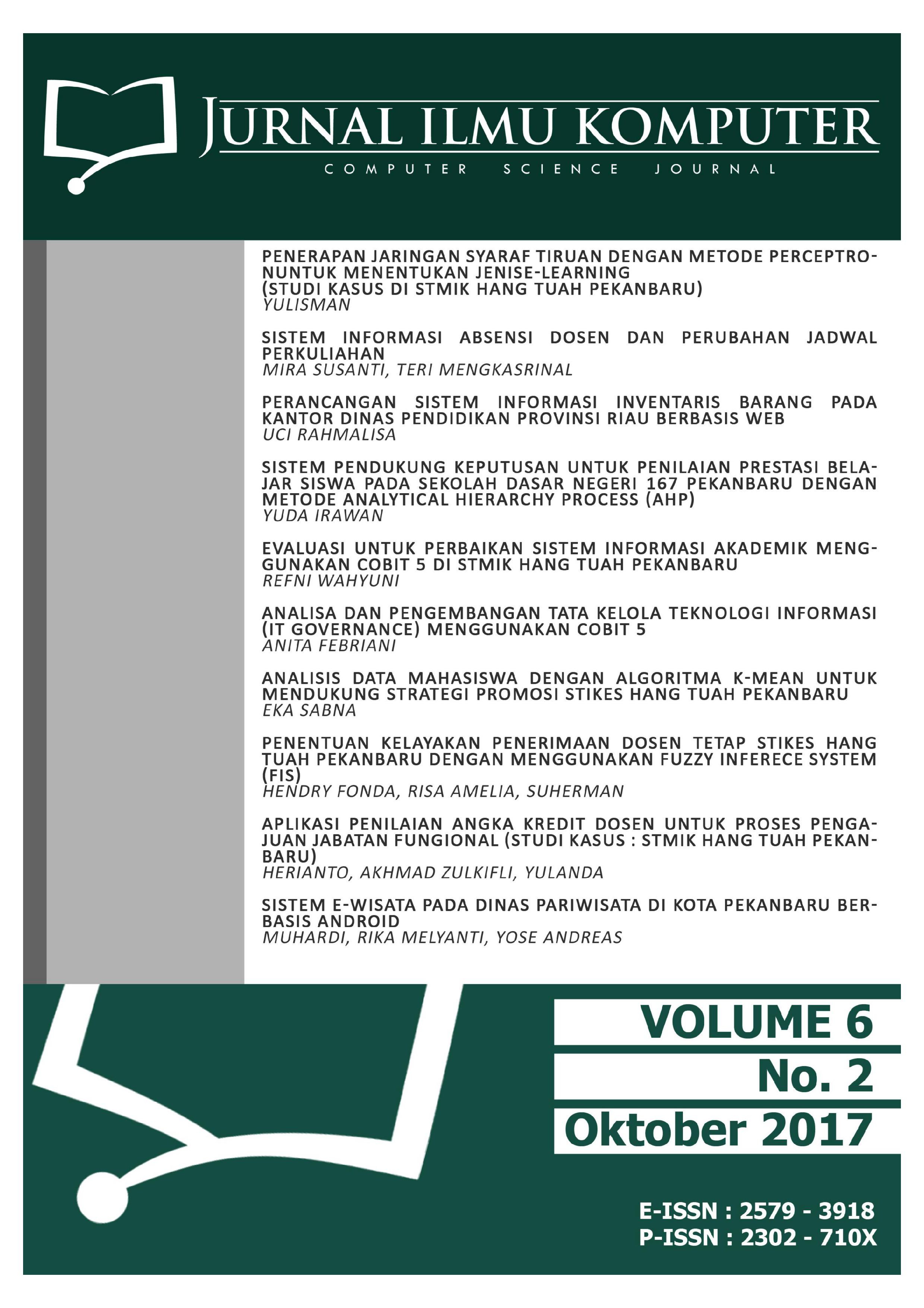 How to Cite
sabna, eka. (2018). ANALISIS DATA MAHASISWA DENGAN ALGORITMA K-MEAN UNTUK MENDUKUNG STRATEGI PROMOSI STIKes HANG TUAH PEKANBARU. Jurnal Ilmu Komputer, 6(2), 103–108. https://doi.org/10.33060/JIK/2017/Vol6.Iss2.69