ANALISA DAN PENGEMBANGAN TATA KELOLA TEKNOLOGI INFORMASI (IT GOVERNANCE) MENGGUNAKAN COBIT 5
Keywords:
IT Governance, Capability Level, COBIT 5
Abstract
Success in providing information services can provide a positive impact to the organization that is in accordance with the expectations of stakeholders. Therefore, the application of IT governance, especially for academic information systems need to be monitored and evaluated to ensure that the entire mechanism of IT management goes according to plan, objectives and business processes. The evaluation also should not only be done in the early stages of a system implemented, but should also be done regularly. The methodology in this study using the COBIT 5 framework that begins with those identified and mapped to the COBIT 5 processes selected. We then measured against these processes to determine the level of the current process capability and also carried out targeting the expected level of capability. Process capability level gap analysis of current and expected conducted to determine the extent to which improvements should be made to these processes. Recommendations for improvement of these processes is based on the COBIT framework 5. Results of this research is assessment and targeting capability level 5 COBIT 5 process were selected as well as recommendations for improvement of IT services activities.
Downloads
Download data is not yet available.
References
Adikara, F. (2013). Implementasi Tata Kelola Teknologi Informasi Perguruan Tinggi Berdasarkan COBIT 5 pada Laboratorium Rekayasa Perangkat Lunak Universitas Esa Unggul. Prosiding Seminar Nasional Sistem Informasi Indonesia (SESINDO)
Grembergen, W.S. (2009). Enterprise Governance of Information Technology. USA: Springer
ISACA. (2012). COBIT 5 : A Business Framework for the Governance and Management of Enterprise. IL, USA.
ISACA. (2012). COBIT 5 : Enabling Process. Rolling Meadows, IL, USA.
ISACA. (2013). COBIT Process Assessment Model (PAM):Using COBIT 5. Rolling Meadows, IL, USA.
ISACA. (2013). COBIT Self Assessment Guide: Using COBIT 5. Rolling Meadows, IL, USA.
IT Governance Institute. (2007). COBIT ver 4.1 : Framework, Control Objective, Management Guidelines, Maturity Models. Rolling Meadow.
itSMF. (2007). An Introductory Overview of ITIL v3, Version 1.0. London : The UK Chater of the itSMF
Mallete, Debra. (2012). COBIT 5 Process Assessment Methode (PAM). Paper presented at 2012 SF ISACA Fall Conference, San Fransisco, CA
Lulu, Y. D. (2013). Analisa Teori IT Governance menggunakan COBIT 5. Jurnal Teknik Elektro dan Komputer Instiut Teknologi Sepuluh November
Saputra, I. N. (2013). Pengukuran Tingkat Kapabilitas dan Perbaikan Tata Kelola Teknologi Informasi Berdasarkan Kerangka Kerja COBIT 5 dan ITIL V3 2011 : Studi Kasus PT. XYZ. Karya Akhir MTI Universitas Indonesia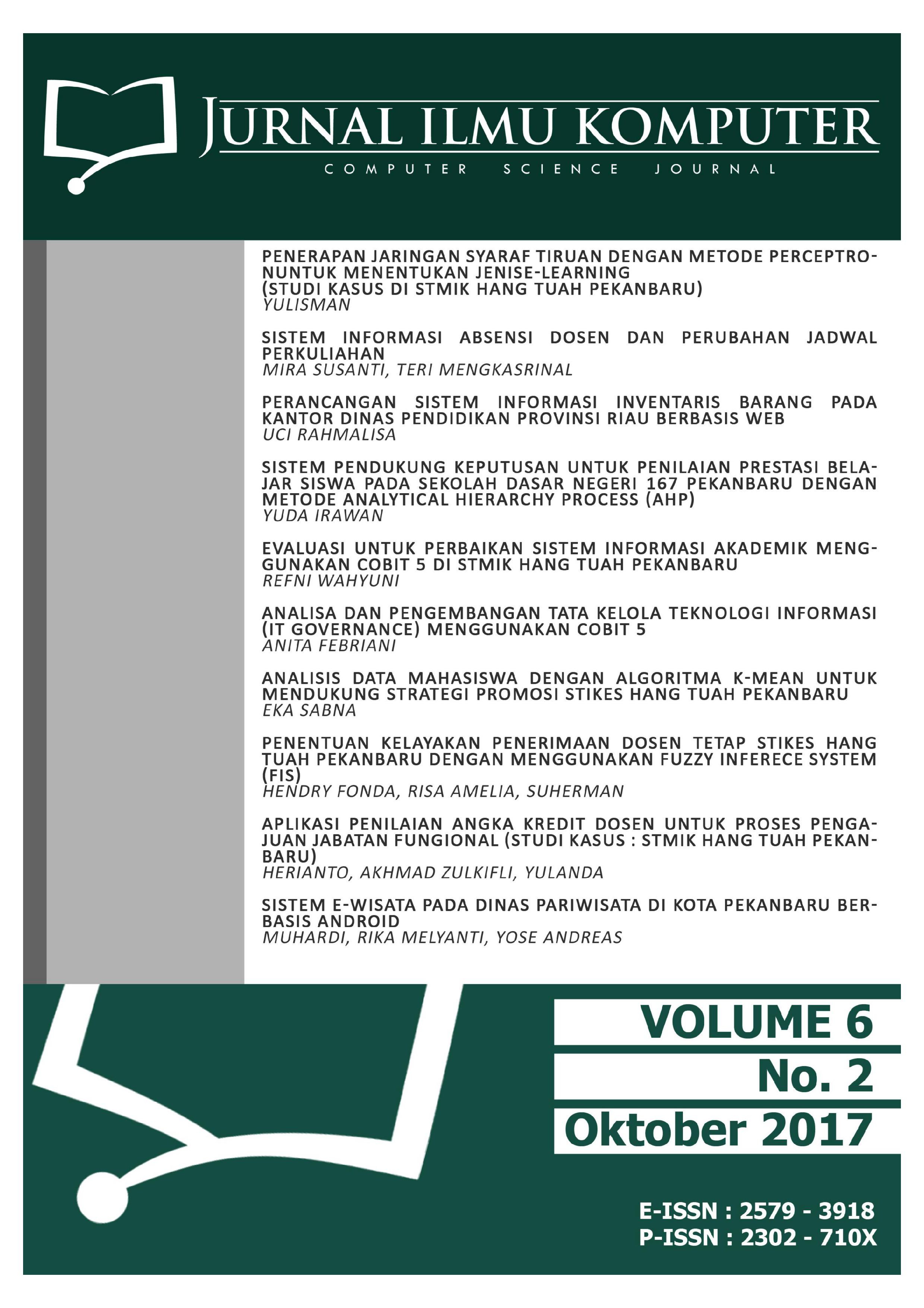 How to Cite
Febriani, A., & Febriani, A. (2018). ANALISA DAN PENGEMBANGAN TATA KELOLA TEKNOLOGI INFORMASI (IT GOVERNANCE) MENGGUNAKAN COBIT 5. Jurnal Ilmu Komputer, 6(2), 97–102. https://doi.org/10.33060/JIK/2017/Vol6.Iss2.68