ROBOT PEMINDAH BENDA DENGAN KENDALI JOYSTICK PS2 WIRELESS BERBASIS WEMOS
Abstract
Robot adalah seperangkat alat mekanik yang bisa melakukan tugas fisik, baik dengan pengawasan dan kontrol manusia, ataupun menggunakan program yang telah didefinisikan terlebih dahulu (kecerdasan buatan). Robot yang  dibuat pada penelitian ini berfungsi untuk memindahkan benda dengan objek berbentuk koin persegi yang terbuat dari Styrofoam dengan kendali menggunakan Joystick PS2 Wireless. Robot ini dibuat menggunakan komponen-komponen seperti Motor DC, Wemos D1 R1, Motor Servo, dan Joystick PS2 Wireless. Hasil dari penelitian ini diharapkan dapat mempermudah pekerjaan manusia dalam memindahkan benda.  
Downloads
Download data is not yet available.
References
F. Z. Rachman and N. Yanti, "Robot Penjejak Ruangan Dengan Sensor Ultrasonik," Jtt, vol. 4, no. 2, pp. 114–119, 2016, [Online]. Available: http://jurnal.poltekba.ac.id/index.php/jtt/article/view/173/121
Haris Tri Saputra, Abdi Muhaimin, and Bambang Kurniawan, "Sistem Kontrol Kunci Pintu Rumah Menggunakan Fingerprint Smartphone Android Berbasis Arduino Uno," J. Ilmu Komput., vol. 11, no. 1, pp. 5–9, 2022, doi: 10.33060/jik/2022/vol11.iss1.239.
Z. Abidin and T. Tijaniyah, "Rancang Bangun Pengoperasian Lampu Menggunakan Sinyal Analog Smartphone Berbasis Mikrokontroller," JEECOM J. Electr. Eng. Comput., vol. 1, no. 1, 2019, doi: 10.33650/jeecom.v1i1.887.
E. Nurraharjo, Z. Budiarso, and H. Listiyono, "Rekayasa Robot Mobil Dengan Empat Motor Penggerak Menggunakan Metode Pengacakan Delay Time Value Berbasis Arduino," J. Din. Inform., vol. 13, no. 1, pp. 36–43, 2021, doi: 10.35315/informatika.v13i1.8438.
S. Wardoyo, J. Saepul, and A. S. P. Suryo Pramudyo, "Rancang Bangun Alat Uji Karakteristik Motor DC Servo, Battery, dan Regulator untuk Aplikasi Robot Berkaki," Setrum Sist. Kendali-Tenaga-elektronika-telekomunikasi-komputer, vol. 2, no. 2, p. 111, 2016, doi: 10.36055/setrum.v2i2.490.
Zaenurrohman and U. Sutisna2, "Perancangan Sistem Kontrol Wireless pada Mobile Robot Manipulator Berbasis Mikrokontroler ATMega8," J. Nas. Tek. Elektro dan Tekologi Inf., vol. 3, no. 1, pp. 69–75, 2014.
I. R. Muttaqin and D. B. Santoso, "Prototype Pagar Otomatis Berbasis Arduino Uno Dengan Sensor Ultrasonic Hc-SR04," JE-Unisla, vol. 6, no. 2, p. 41, 2021, doi: 10.30736/je-unisla.v6i2.695.
Y. Irawan, R. Wahyuni, D. Rahmawati, and H. T. Saputra, "SISTEM KEAMANAN SMART BRANKAS MENGGUNAKAN FINGERPRINT ANDROID," 2022. [Online]. Available: http://ojsamik.amikmitragama.ac.id
P. Yoko, R. Adwiya, and W. Nugraha, "Penerapan Metode Prototype dalam Perancangan Aplikasi SIPINJAM Berbasis Website pada Credit Union Canaga Antutn," J. Ilm. Merpati (Menara Penelit. Akad. Teknol. Informasi), vol. 7, no. 3, p. 212, 2019, doi: 10.24843/jim.2019.v07.i03.p05.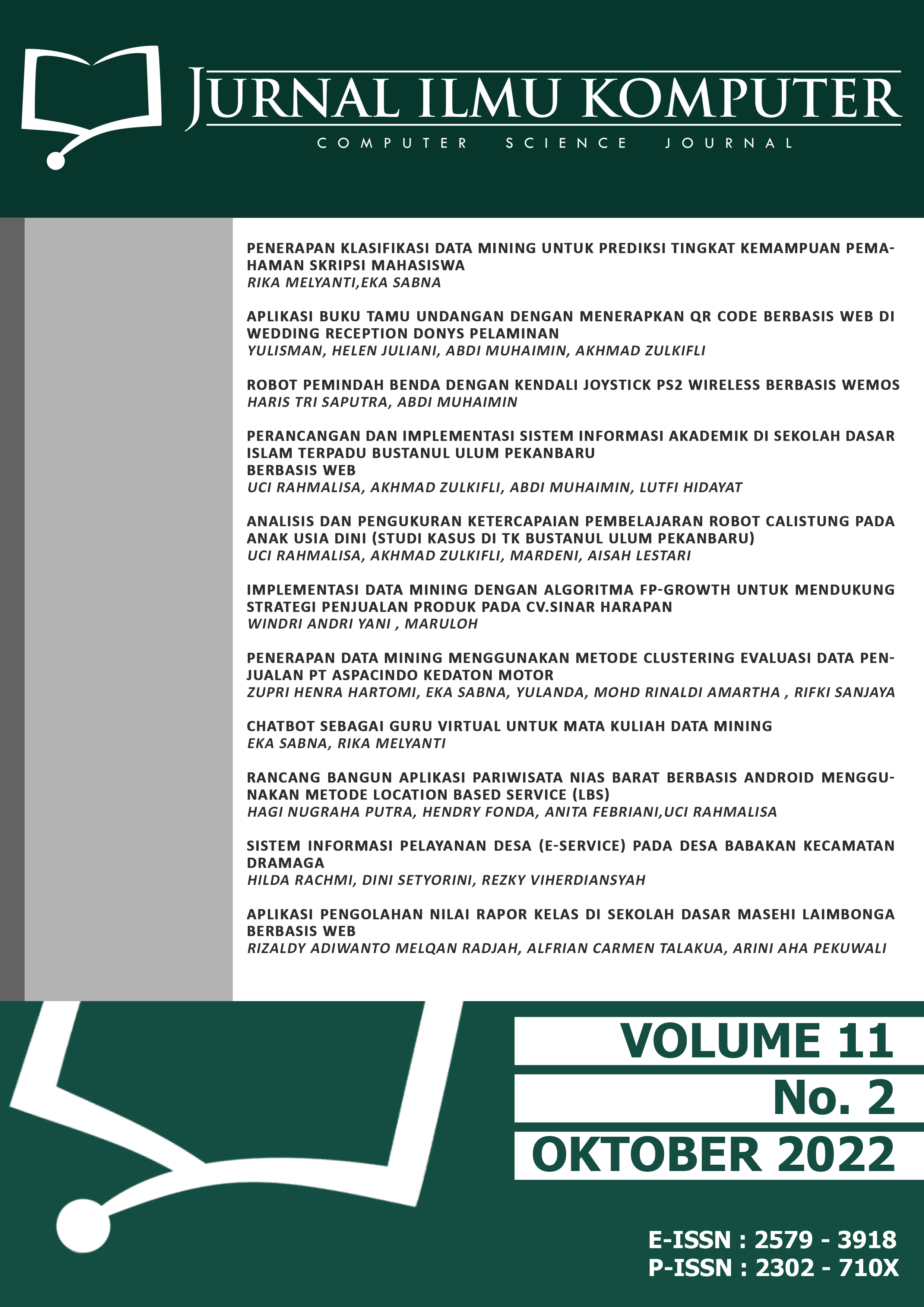 How to Cite
Haris Tri Saputra, & Abdi Muhaimin. (2022). ROBOT PEMINDAH BENDA DENGAN KENDALI JOYSTICK PS2 WIRELESS BERBASIS WEMOS. Jurnal Ilmu Komputer, 11(2), 80–85. https://doi.org/10.33060/JIK/2022/Vol11.Iss2.280
Copyright & Licensing
Copyright (c) 2022 Jurnal Ilmu Komputer
This work is licensed under a Creative Commons Attribution-NonCommercial-ShareAlike 4.0 International License.