CHATBOT SEBAGAI GURU VIRTUAL UNTUK MATA KULIAH DATA MINING
CHATBOT SEBAGAI GURU VIRTUAL UNTUK MATA KULIAH DATA MINING
Keywords:
Chatbot, Data Mining, Virtual Teacher, Student, Learning
Abstract
Abstract
A chatbot is an application (service) that interacts with users through text conversations. Chatbots work to replace the role of humans in serving conversations through messaging applications. The chatbot that is built will be virtual assisting that will help students learn at home. Chatbots can only answer questions based on patterns that have been stored in the chatbot's knowledge base. Chatbots are automated conversational agents that interact with users using natural human language that can help anytime and anywhere. This chatbot is applied as a Virtual Teacher who can provide information and learning materials to students in Data Mining courses.
Keywords: C4.5, NBC, GPA, performance, student
Abstrak
Chatbot merupakan aplikasi (layanan) yang berinteraksi dengan pengguna melalui percakapan teks. Chatbot bekerja untuk menggantikan peranan manusia dalam melayani pembicaraan melalui aplikasi pesan. chatbot yang dibangun akan menjadi virtual assisting yang akan membantu Mahasiswa dalam belajar dirumah. Chatbot hanya dapat menjawab pertanyaan berdasarkan pola yang telah disimpan di dalam knowledge base chatbot. Chatbot adalah agen percakapan otomatis yang berinteraksi dengan pengguna menggunakan bahasa alami manusia yang dapat membantu kapan saja dan dimana saja. Chatbot ini di aplikasikan sebagai Guru Virtual yang dapat memberikan informasi dan materi pembelajaran terhadap mahasiswa dalam matakuliah Data Mining.
Kata Kunci : Chatbot, Data Mining, Virtual Teacher, Student, Learning
Downloads
Download data is not yet available.
References
Larose, D. T. (2006). DATA MINING METHODS AND MODELS. In Contemporary Psychology: A Journal of Reviews (Vol. 21).
https://doi.org/10.1037/014836
Larose, D. T., & Larose, C. D. (2014). Discovering Knowledge in Data. In Discovering Knowledge in Data. https://doi.org/10.1002/9781118874059
Mauritsius dkk, T. (2020, September). Cross-Industry Standard Process for Data Mining (CRISP-DM) – MMSI BINUS University. https://mmsi.binus.ac.id/2020/09/18/cross-industry-standard-process-for-data-mining-crisp-dm/
Musyaffa, I. (2022). Metode Pengembangan RAD (Rapid Application Development) | Agus Hermanto. https://agus-hermanto.com/blog/detail/metode-pengembangan-rad-rapid-application-development
Sabna, E. (2022, April). View of APLIKASI CHATBOT SEBAGAI CUSTOMER SUPPORT UNTUK MENINGKATKAN PELAYANAN TERHADAP CALON MAHASISWA. https://jik.htp.ac.id/index.php/jik/article/view/249/151
Sugiono, S. (2021). PEMANFAATAN CHATBOT PADA MASA PANDEMI COVID-19: KAJIAN FENOMENA SOCIETY 5.0. Jurnal PIKOM (Penelitian Komunikasi Dan Pembangunan), 22(2), 133–148. https://doi.org/10.31346/JPIKOM.V22I2.3833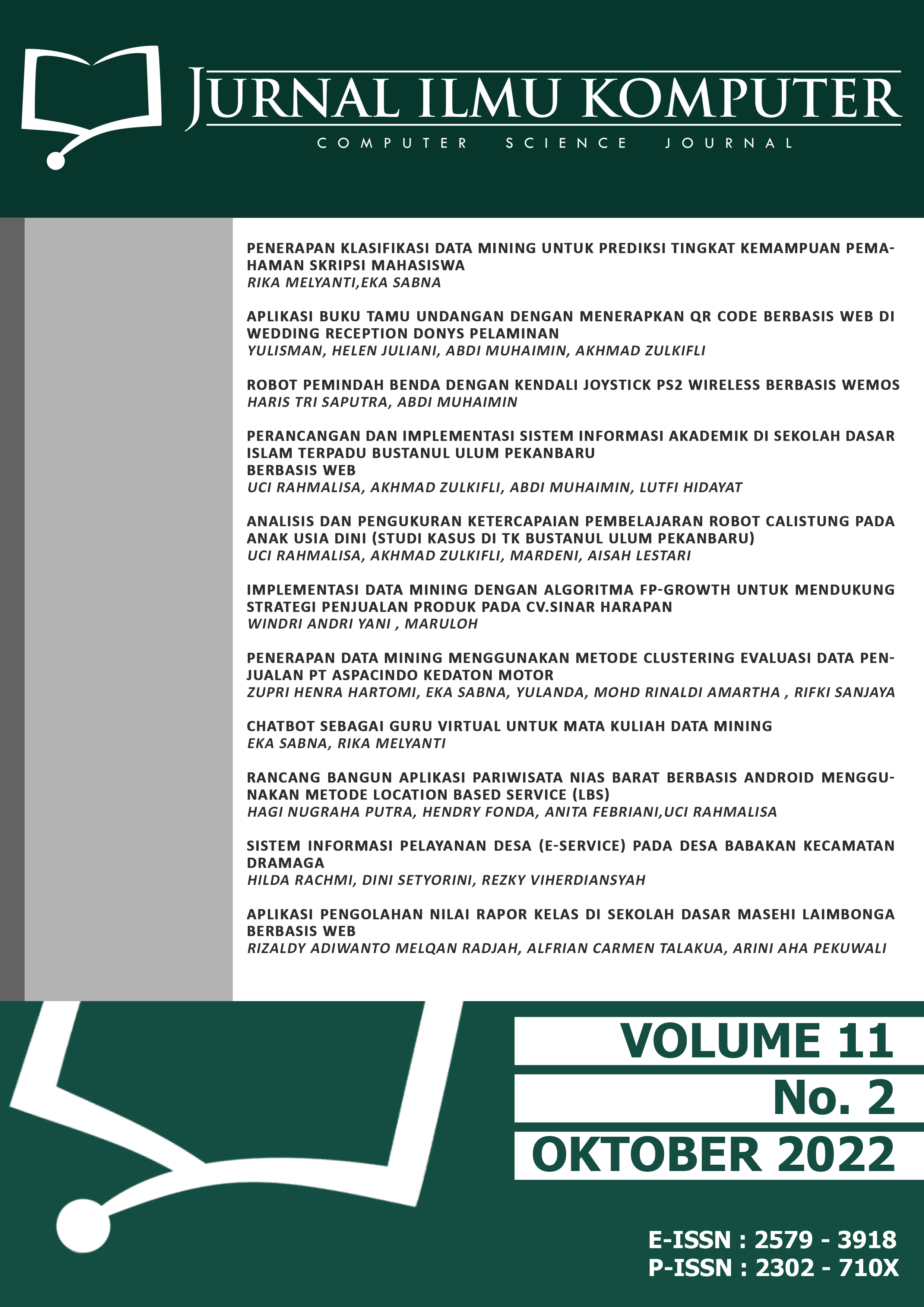 How to Cite
Sabna, E. (2022). CHATBOT SEBAGAI GURU VIRTUAL UNTUK MATA KULIAH DATA MINING: CHATBOT SEBAGAI GURU VIRTUAL UNTUK MATA KULIAH DATA MINING. Jurnal Ilmu Komputer, 11(2), 110–115. https://doi.org/10.33060/JIK/2022/Vol11.Iss2.276
Copyright & Licensing
Copyright (c) 2022 Jurnal Ilmu Komputer
This work is licensed under a Creative Commons Attribution-NonCommercial-ShareAlike 4.0 International License.