RANCANG BANGUN APLIKASI OLAHRAGA RUMAHAN BERBASIS ANDROID
Keywords:
Aplikasi Android, Olahraga Rumahan
Abstract
Saat ini, pandemi COVID-19 mengakibatkan ancaman bagi masyarakat dalam hal kesehatan, ekonomi, dan gaya hidup. Salah satu cara yang dapat dilakukan dalam mencegah Covid-19 adalah tetap menjaga kesetan dengan cara ruting melakukan olahraga. Olahraga rumahan menjadi solusi bagi masyarakat karena tidak perlu melakukan olahraga diluar dan jauh dari keramaian. Aplikasi Olahraga rumahan berbasis android diharapkan bisa memberikan kemudahan bagi masyarakat dalam melakukan olahraga dirumah. Pada aplikasi disajikan tutorial berupa deskripsi dan video olahraga rumahan sehingga memudahkan masyarakat dalam melakukan olahraga dirumah secara mandiri.
Downloads
Download data is not yet available.
References
Dharmika, P., & Dharmika, P. (2020). Penggunaan Aplikasi Nike Training Untuk Panduan Berolahraga Dalam Masa Pandemi Covid-19.
Jusrianto, J., Zahir, A., & Muthmainnah, A. (2019). Pembuatan Aplikasi Media Pembelajaran Pendidikan Jasmani Dan Olahraga Berbasis Android pada SMA Negeri 5 Palopo. Seminar Nasional Teknologi Informasi Dan Komputer, 2014, 73–83.
Oktafianus, R., Palit, H. N., & Dewi, L. P. (2017). Aplikasi sistem Reservasi Fasilitas Olahraga Berbasis Android.
Titting, Fellyson, Hidayah, Taufik, Pramono, H. (2016). Pengembangan Multimedia Pembelajaran Senam Lantai Berbasis Android Pada Pendidikan Jasmani Olahraga Dan Kesehatan Di Sma. Journal of Physical Education and Sports, 5(2), 120–126.
Yazid, S., & Jovita, L. D. (2020). DAMPAK PANDEMI TERHADAP MOBILITAS MANUSIA DI ASIA TENGGARA. Jurnal Ilmiah Hubungan Internasional. https://doi.org/10.26593/jihi.v0i0.3862.75-83
Rizaldi, R. Y. (2018). MAKNA OLAHRAGA CALISTHENICS SEBAGAI GAYA HIDUP ASYARAKAT URBAN MUDA. Jurnal Ilmiah Konstruksi Sosial Olahraga Calisthenics di Kota Surabaya. http://repository.unair.ac.id/75120/3/JURNAL_Fis.S.53%2018%20Riz%20m.pdf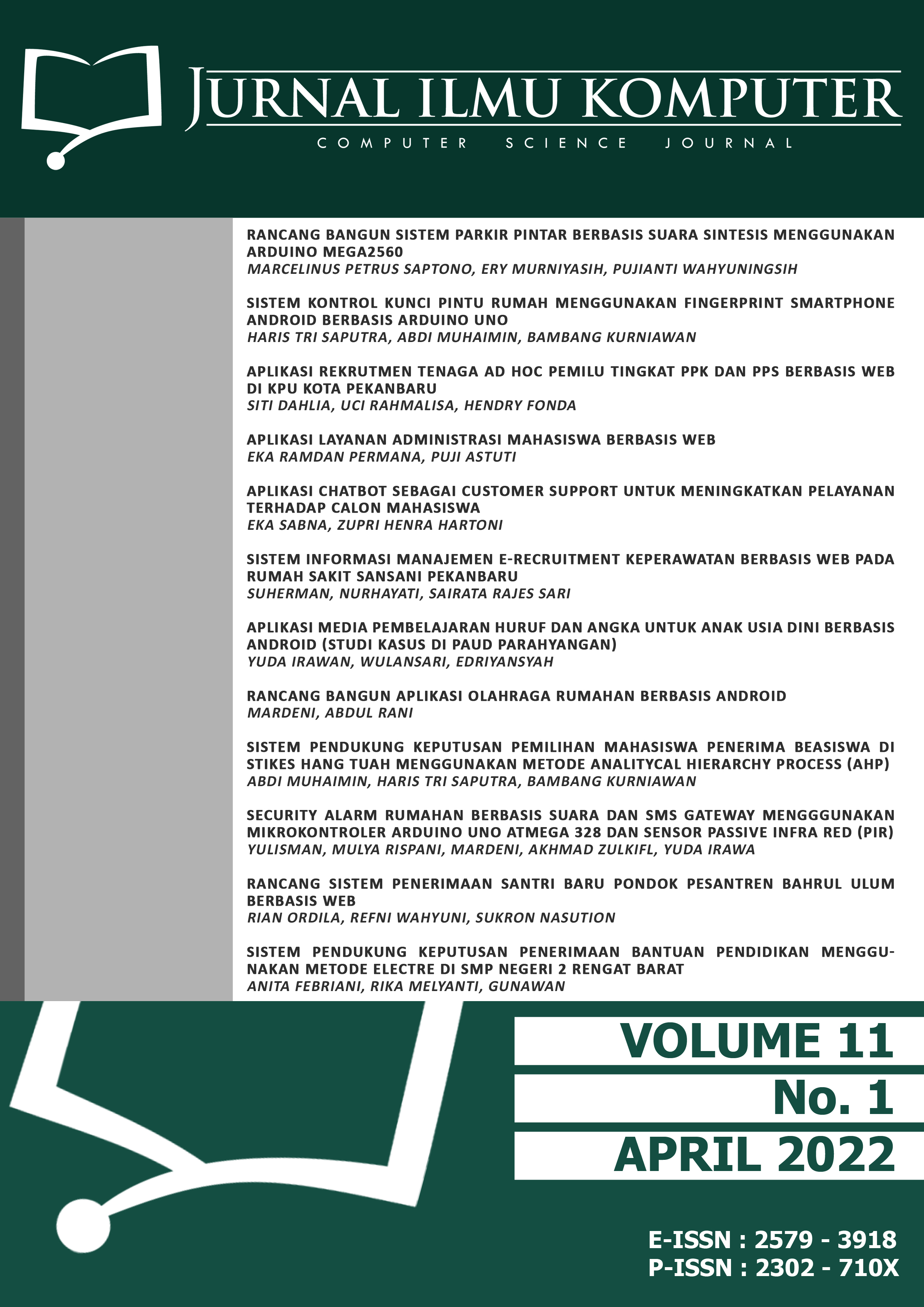 How to Cite
ST,.M.Kom, M. (2022). RANCANG BANGUN APLIKASI OLAHRAGA RUMAHAN BERBASIS ANDROID. Jurnal Ilmu Komputer, 11(1), 35–38. https://doi.org/10.33060/JIK/2022/Vol11.Iss1.236
Copyright & Licensing
Copyright (c) 2022 Jurnal Ilmu Komputer
This work is licensed under a Creative Commons Attribution-NonCommercial-ShareAlike 4.0 International License.