ANALISIS TEXT MINING DARI HASIL WAWANCARA
Keywords:
Text Mining, Interview, Conversation
Abstract
Abstract
One important component in research is the process of researchers in collecting data or sampling data. A common technique used to obtain data sampling is to use a printed questionnaire (paper) then the respondent fills in or answers the questionnaire. Then the questionnaire is written in the form of documents / text. With the development of technology we can change the questionnaire technique by conducting interviews with respondents, the results of the conversation are recorded (the video) and then the voice is converted into text (text file) using the Speech to Text Application. Then the text file is analyzed using the Text Mining technique using the Rapidminer application to obtain a pattern from the results of the interview.
Keywords: Text Mining, Interview, Conversation

Abstrak
Salah satu komponen yang penting dalam penelitian adalah proses peneliti dalam pengumpulan data atau sampling data. Teknik yang umum dilakukan untuk mendapatkan sampling data adalah dengan menggunakan kuesioner yang dicetak (kertas) kemudian responden mengisi atau menjawab kuesioner tersebut. Kemudian kuesioner tersebut dituliskan ke dalam bentuk dokumen/text . Dengan berkembangnya teknologi kita bisa merubah teknik kuesioner tersebut dengan cara melakukan wawancara dengan responden, hasil pembicaraan tersebut direkam (video) kemudian suara tersebut dilakukan konversi menjadi text (file text) dengan menggunakan Aplikasi Speech to Text. Kemudian file text tersebut dianalisis menggunakan teknik Text Mining dengan menggunakan aplikasi Rapidminer untuk memperoleh suatu pola dari hasil wawancara tersebut.
Kata Kunci : Text Mining, Wawancara, Konversi
Downloads
Download data is not yet available.
References
J. Han, M.Kamber, and J.Pei. 2006. Data Mining : Concept and Techniques, Second Edition, 2nd ed. Morgan Kaufmann California.
Kurniawan, B., Effendi, S., and Sitompul, O,S. 2012. Klasifikasi Konten Berita Dengan Metode Text Mining. Dunia Teknologi Informasi Vol.1, No.1: Hal.14-19.
Larose,D.T.2005. Discovering Knowledge in Data : An Introduction to Data Mining. Hoboken:Interscience, John Wiley & Sons, Inc.
Santoso, B. 2007. Data Mining : Teknik Pemanfaatan Data untuk Keperluan Bisnis. Yogyakarta: Graha Ilmu.
Susanto,S., and Suryadi, D.2010. Pengantar Data Mining. Yogyakarta : C.V Andi Offset.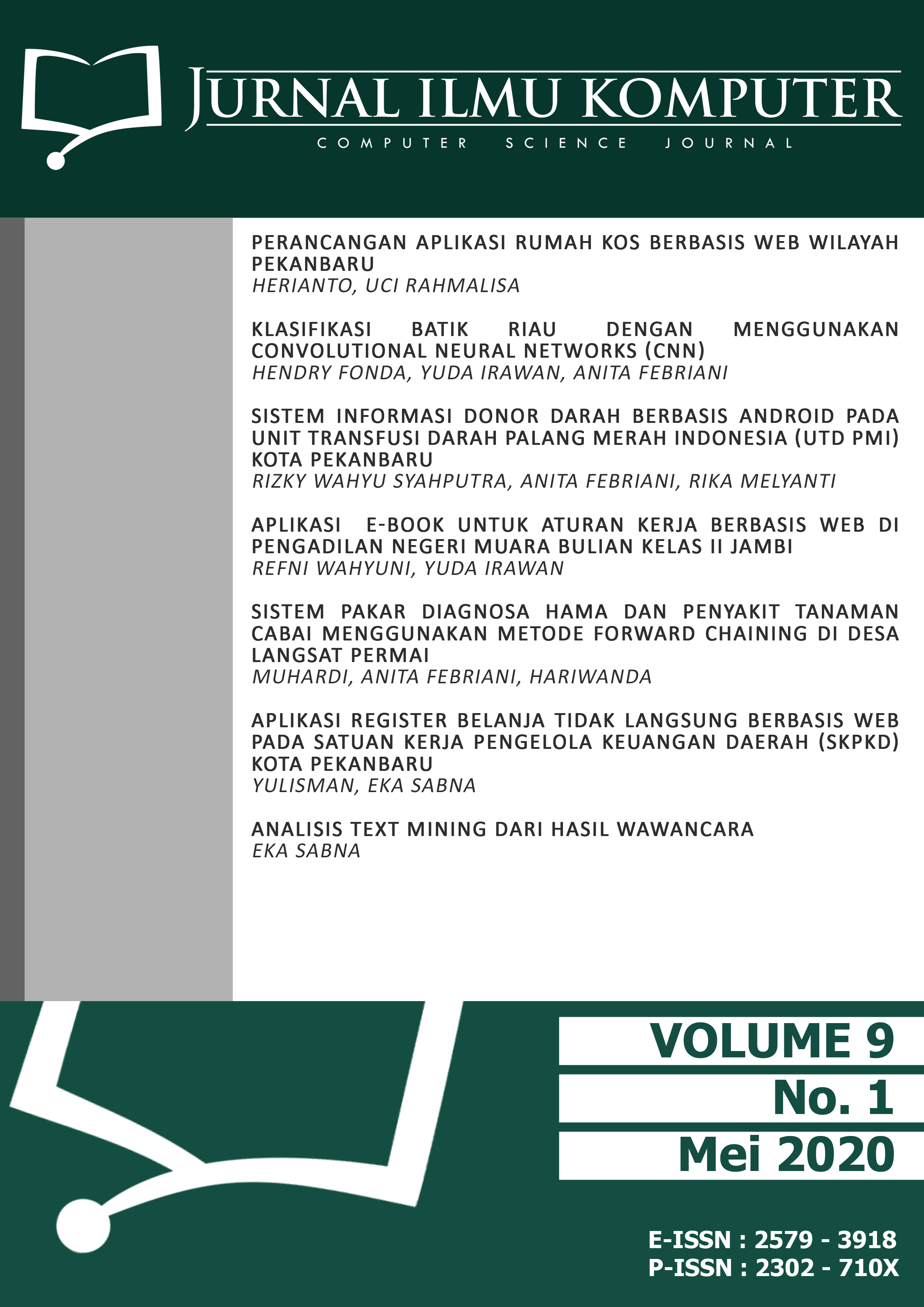 How to Cite
Sabna, E. (2020). ANALISIS TEXT MINING DARI HASIL WAWANCARA. Jurnal Ilmu Komputer, 9(1), 46–48. https://doi.org/10.33060/JIK/2020/Vol9.Iss1.157