SISTEM INFORMASI DONOR DARAH BERBASIS ANDROID PADA UNIT TRANSFUSI DARAH PALANG MERAH INDONESIA (UTD PMI) KOTA PEKANBARU
Keywords:
Blood Donor, Android, UTD PMI
Abstract
Blood is one of the most important parts in the human body because blood has a function to circulate the juice, carry oxygen, circulate hormones, and others. If humans reduce blood caused by accidents or anemia, so that humans lack blood or store dirty blood in the body, then it can cause diseases that endanger the health of even someone. Blood donor activity is an activity of the process of blood transfer from donors to people who lack blood. The process is carried out by those who carry out blood processing processes such as the Blood Transfusion Unit (UTD) under the auspices of the Indonesian Red Cross (PMI).  UTD PMI Pekanbaru City only has a web-based blood donor information system, so UTD PMI Pekanbaru City wants to keep up with the times where many users use smartphones so they want to upgrade from the web version to the Android version. The reason for the improvement of this system aims to reduce hosting costs to be paid when using a web system and Android-based information system does not require typing too much when the user will carry out an order to the system, its use is not limited by space and place, and does not really need a connection that is prime to run the system. Android-Based Donor Information System in the Indonesian Red Cross Blood Transfusion Unit (UTD PMI) Pekanbaru City can help all people to find out about information about blood donations well by using Android-based smartphones as interesting media.
Downloads
Download data is not yet available.
References
Ermatita. 2016. Analisis Dan Perancangan Sistem Informasi Perpustakaan. http://download.portalgaruda.org/article.php?article=472252&val=5840&title=ANALISIS%20DAN%20PERANCANGAN%20%20SISTEM%20INFORMASI%20PERPUSTAKAAN diakses pada [Senin, 25 September 2017. Jam 04:17 Wib].
Fuadda, Rahmatul., dkk. 2016. Perbedaan Reaksi Pemberian Transfusi Darah Whoole Blood (Wb) Dan Packed Red Cell (Prc) Pada Pasien Sectio Caesare.
https://www.google.co.id/url?sa=t&rct=j&q=&esrc=s&source=web&cd=1&cad=rja&uact=8&ved=0ahUKEwiP2d-6vNXWAhUGJ5QKHZ81Am4QFggoMAA&url=https%3A%2F%2Fojs.fdk.ac.id%2Findex.php%2Fhumancare%2Farticle%2Fdownload%2F29%2Fpdf&usg=AOvVaw2fx5MSsjbImUOk9neVxZV0diakses pada [Selasa, 26 September 2017. Jam 05:15 Wib].
Hapsari, Nur Yuli Dwi., Herdiana, Ike. 2012. Hubungan Antara Self-Esteem Dengan Intensi Perilaku Prososial Donor Darah pada Donor Di Unit Donor Darah PMI Surabaya. http://www.journal.unair.ac.id/download-fullpapers-jpksde3108ea962full.pdf diakses pada [Senin, 30 September 2019. Jam 12.08 Wib].
Hendini, A. (2016). Pemodelan UML Sistem Informasi Monitoring Penjualan dan Stok Barang (Studi Kasus: Distri Zhezha Pontianak). Jurnal Khatulistiwa Informatika, IV(2).
Hermawan S., Stephanus. 2011. Mudah Membuat Aplikasi Android. Andi. Yogyakarta.
Mario Fernando. 2013. Membuat Aplikasi Android Augmented Reality Menggunakan Vuforia SDK dan Unity.
Suherman, Yanni. 2017. Sistem Aplikasi Bank Darah Pada Palang Merah Indonesia Payakumbuh.
http://ejournal.kopertis10.or.id/index.php/sains/article/download/2329/80 diakses tanggal [Minggu, 29-09-2019, Pukul 7.39 Wib].
Sugiatno, Castaka Agus. 2017. Rancang Bangun Aplikasi Donor Darah Berbasis Mobile di PMI Kab Bandung. https://media.neliti.com/media/publications/227024-rancang-bangun-aplikasi-donor-darah-berb-942afb1f.pdf diakses tanggal [Minggu, 29-09-2019, Pukul 7.30 Wib].
Sukamto, Rosa Ariani dan Shalahuddin, M. 2016. Rekayasa Perangkat Lunak. Informasi Bandung. Bandung.
Polinema, J. I. (2018). Penerapan Web Service Dan Firebase Notification. Jurnal Informatika Polinema, 4(2), 161–167.
Warman, Indra., Saputra, Keni Novandri. 2012. Sistem Informasi Alumni ITP Menggunakan PHP Dan MySQL.
https://ejournal.itp.ac.id/index.php/momentum/article/viewFile/87/84 diakses pada [Selasa, 26 September 2017. Jam 12.02 Wib].
Yakub. 2012. Pengantar Sistem Informasi. Graha Ilmu. Yogyakarta.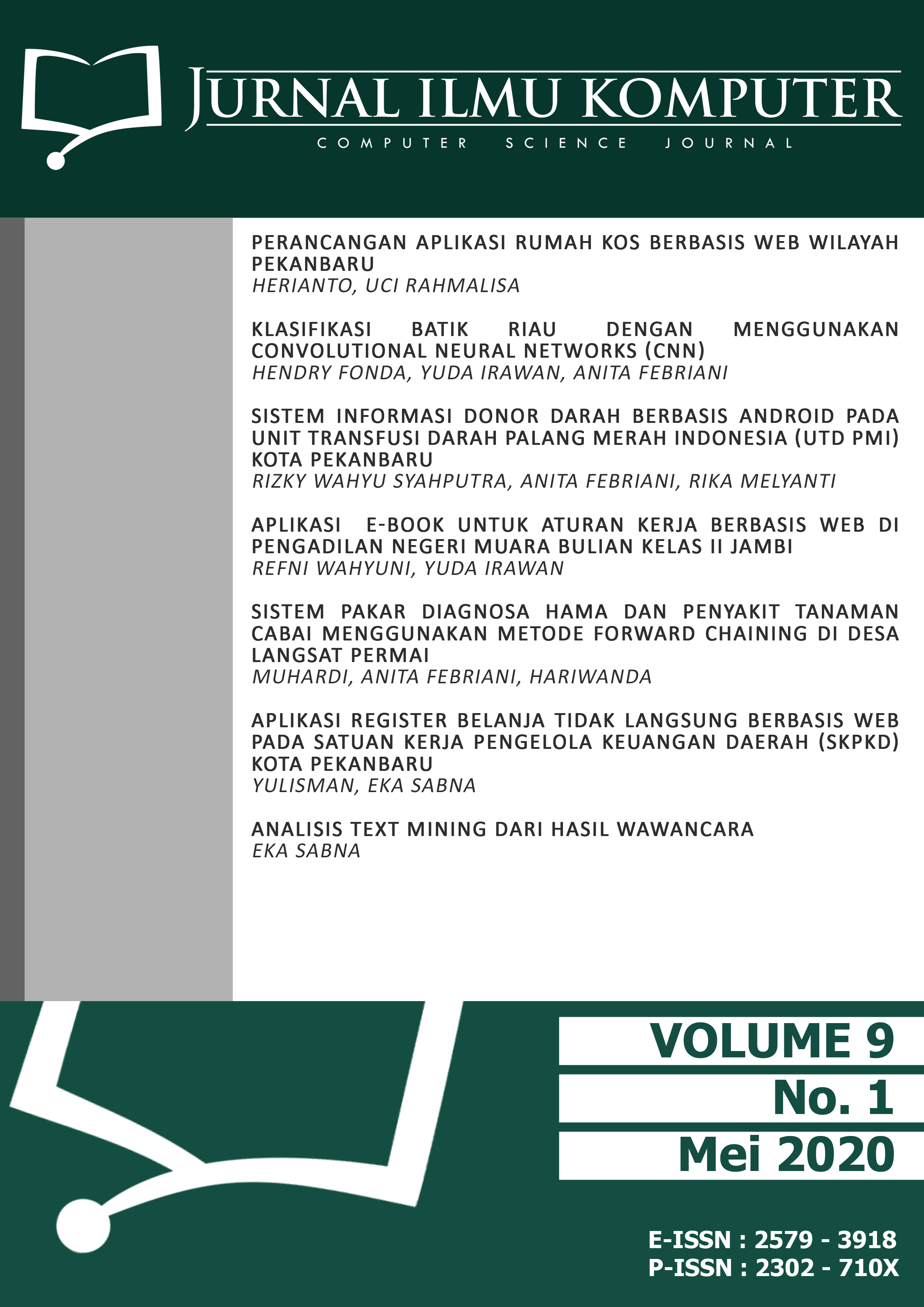 Downloads