APLIKASI PEMBELAJARAN SHOLAT PADA ANAK USIA DINI BERBASIS ANDROID
Keywords:
fisher yates, prayer, multimedia
Abstract
The development of technology makes the cellphone no longer functions as a means of communication but its features are increasingly enriched, making it more functional. The purpose of writing this research is to design a mobile application for prayer information to make it easier for Muslims to get information about the procedures for implementing obligatory prayers, especially for the learning process of prayer in children often encounter obstacles such as limited info, media and high mobility, therefore sometimes we need media learning that can be taken anywhere - like the prayer guide application on this handphone. This application can display the prayer menu that contains mandatory prayer guidelines, prayer details that contain images of prayer movements along with lafadz and their sounds. This application modeling uses UML (Unified Modeling Language), which includes Use Case Diagrams, Class Diagrams, Sequence Diagrams, and Activity Diagrams. By making this application with the Fisher Yates Shuffle algorithm is expected to help the process of learning prayer for children, easily which can be used anytime and anywhere. As for the future development, it is expected to be able to make the sunnah prayer menu, adding a short letter in the quran.
Downloads
Download data is not yet available.
References
Destiningrum, M., & Adrian, Q. J. (2017). SISTEM INFORMASI PENJADWALAN DOKTER BERBASSIS WEB DENGAN MENGGUNAKAN FRAMEWORK CODEIGNITER ( STUDI KASUS : RUMAH SAKIT YUKUM MEDICAL CENTRE ), 11(2), 30–37.

Dewi, M. A., Anggraeni, V. D., Mudjadi, S. A., & Wicaksono, A. (2014). APLIKASI REKAPITULASI ELEKTRONIK ABSENSI GURU & PEGAWAI ( AREA-GP ) PADA SEKOLAH MENENGAH ATAS, 2014(Sentika).

Dian, W. P. (2016). GAME EDUKASI BERBASIS ANDROID SEBAGAI MEDIA PEMBELAJARAN UNTUK ANAK USIA DINI, 1(1), 46–58.

Haditama, I., Slamet, C., & Fauzy, deny. (2016). FUZZY TSUKAMOTO DALAM GAME KUIS TEBAK, I(1), 51–58.

Hidayat, A., Rizki, S. D., & Saputra, D. (2016). PERANCANGAN SISTEM INFORMASI PENGOLAHAN NILAI BERBASISKAN WEB PADA SEKOLAH MENENGAH ATAS NEGERI 5 BUKITTINGGI DENGAN MENGGUNAKAN BAHASA PERMROGRAMAN PHP, 6(2), 40–44.

Indah, A. A. (2014). PEMANFAATAN MEDIA AUDIO VISUAL SEBAGAI SUMBER, 3(1).


Kuswanto, J., & Walusfa, Y. (2017). Pengembangan Multimedia Pembelajaran pada Mata Pelajaran Teknologi Informasi dan Komunikasi Kelas VIII Abstrak, 6(2301), 58–64.

Lesmana, H. C., Isnanto, R. R., & Widianto, E. D. (2016). Perancangan Aplikasi Android " SHOLAT YUKK " sebagai Media Pembelajaran, 4(4), 502–509. https://doi.org/10.14710/jtsiskom.4.4.2016.502-509

Mallu, S. (2015). Sistem pendukung keputusan penentuan karyawan kontrak menjadi karyawan tetap menggunakan metode topsis. Jurnal Ilmiah Teknologi Dan Informasi Terapan, 1(2), 36–42.

Tjandra, S., & Pickerling, C. (2015). APLIKASI METODE-METODE SOFTWARE TESTING PADA CONFIGURATION , COMPATIBILITY DAN USABILITY PERANGKAT LUNAK, 367–374.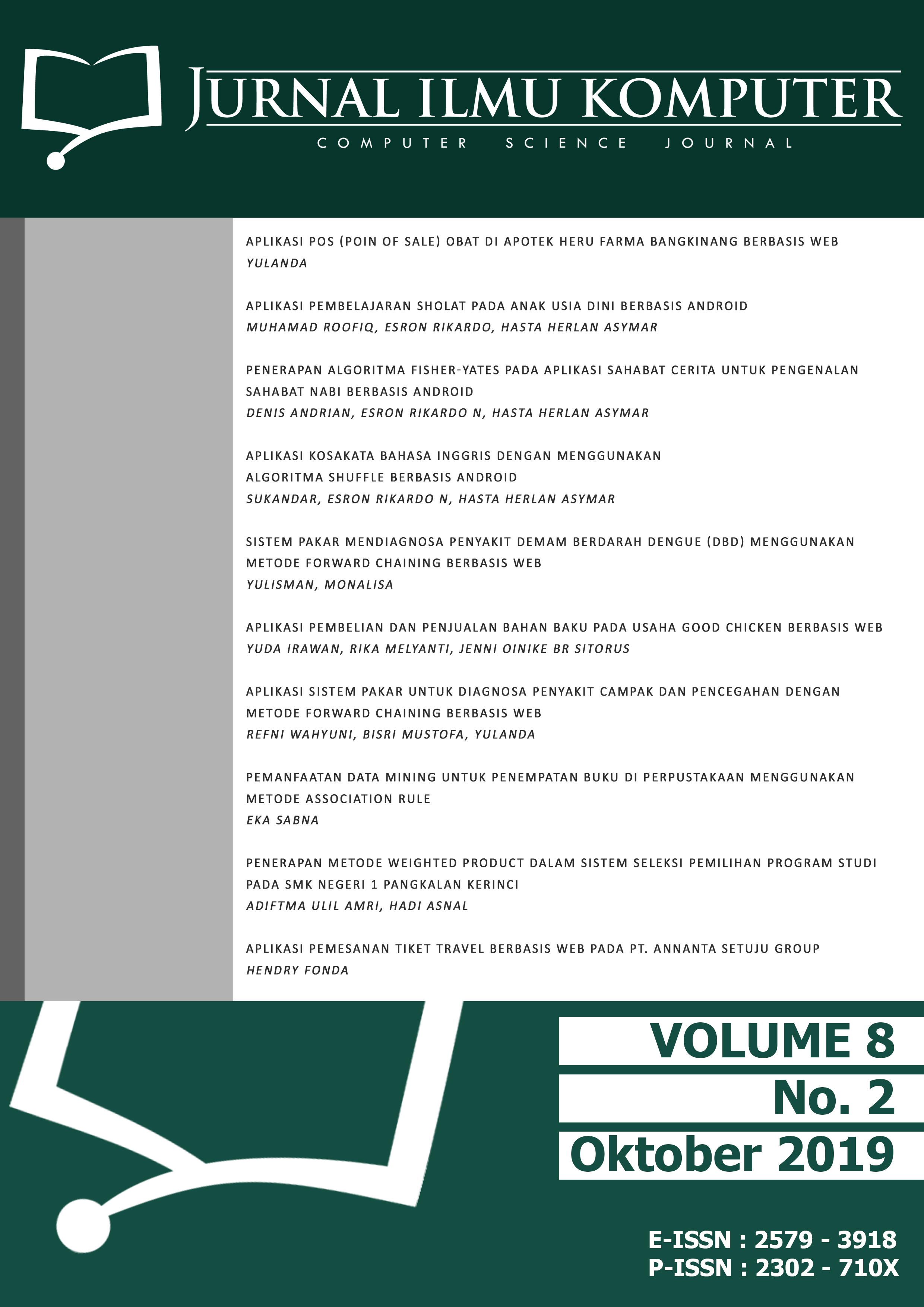 How to Cite
Roofiq, M. (2019). APLIKASI PEMBELAJARAN SHOLAT PADA ANAK USIA DINI BERBASIS ANDROID. Jurnal Ilmu Komputer, 8(2), 9–15. https://doi.org/10.33060/JIK/2019/Vol8.Iss2.137