The SISTEM PAKAR MENDIAGNOSA PENYAKIT DEMAM BERDARAH DENGUE (DBD) MENGGUNAKAN METODE FORWARD CHAINING BERBASIS WEB
Keywords:
Expert Systems, Dengue Hemorrhagic Fever, Forward Chaining
Abstract
Dengue hemorrhagic fever is a disease caused by the dengue virus. This disease is transmitted through the bite of Aedes aegepty and Aedes albopictus mosquitoes. Dengue hemorrhagic fever is an infectious disease that often causes outbreaks and causes death. Usually dengue fever is diagnosed late. The purpose of this study is to design and create an expert system that is able to diagnose early and provide solutions for dengue fever according to the knowledge of an expert. This expert system is web-based using the programming language PHP and MySQL as the database. The method used is forward chaining, which is an advanced method based on the premises in the rules and facts given by the user. The method used in the manufacture and development of expert systems is the waterfall system method which consists of five phases. Test results based on advanced sequences, namely the system is able to obtain clinical diagnosis results and the system is able to provide information and solutions about dengue fever based on the knowledge and abilities of the doctor.
Downloads
Download data is not yet available.
References
Aini, N., Ramadiani, & Hatta, H. R. (2017). Sistem Pakar Pendiagnosa Penyakit Tuberkulosis. Jurnal Informatika Mulawarman, Vol. 12(No. 1), 56–63.

Dhiaksa, A. (2016). Sistem Pakar Diagnosa Penyakit Kulit Menggunakan Metode Forward Chaining. Universitas Sanata Dharma.

Dinkes Kota Pekanbaru. (2018). 2018, Dinkes Catat 358 Kasus DBD di Pekanbaru. Retrieved from http://pekanbaru.go.id/p/news/-2018--dinkes-catat-358-kasus-dbd-di-pekanbaru

Harison, & Kardo, R. (2017). Sistem Pakar Diagnosa Penyakit Saluran Pernapasan Berbasis Web Menggunakan Metode Forward Chaining. Jurnal Momentum, Vol. 19(No. 1), 34–39. https://doi.org/10.21063/JM.2017.V19.1.34-39

Nurkholis, A., & Lestari, D. S. (2016). Sistem Pakar Penyakit Lambung Menggunakan Metode Forward Chaining. In Prosiding SNST (pp. 1–6). Semarang: Universitas Wahid Hasyim.

Octavina, Y., & Fadlil, A. (2014). Sistem Pakar untuk Mendiagnosa Penyakit pada Saluran Pernafasan dan Paru Menggunakan Metode Certainty Factor. Jurnal Sarjana Teknik Informatika, Vol. 2(No. 2), 48–57.

Raharjo, J. S. D., Damiyana, D., & Hidayatullah, M. (2016). Sistem Pakar Diagnosa Penyakit Lambung dengan Metode Forward Chaining Berbasis Android. Jurnal Sisfotek Global, Vol. 6(No. 2), 1–8.

Rosnelly, R. (2012). Sistem Pakar Konsep dan Teori. (P. Yesaya Jati, Ed.). Yogyakarta: Andi.

Sarosa, S. (2017). Metodologi Pengembangan Sistem Informasi. Jakarta: Indeks.

Sasmito, G. W. (2017). Penerapan Metode Waterfall Pada Desain Sistem Informasi Geografis Industri Kabupaten Tegal. Jurnal Pengembangan IT (JPIT), Vol. 2(No. 1), 6–12.

Sitorus, B. P. (2017). Sistem Pakar Mendiagnosa Penyakit Malaria Berbasis Web. In Prosiding Seminar Nasional Inovasi Teknologi (SNITek 2017) (pp. 122–130). Jakarta: Universitas Mulawarman.

Suendri. (2018). Implementasi Diagram UML (Unified Modelling Language) Pada Perancangan Sistem Informasi Remunerasi Dosen Dengan Database Oracle (Studi Kasus: UIN Sumatera Utara Medan). Jurnal Ilmu Komputer Dan Informatika, Vol. 3(No. 1), 1–9.

Sukamto, R. A., & Shalahuddin, M. (2013). Rekayasa Perangkat Lunak Terstruktur dan Berorientasi Objek. Bandung: Informatika.

Sukohar, A. (2014). Fakultas Kedokteran Universitas Lampung Demam Berdarah Dengue ( DBD ) Fakultas Kedokteran Universitas Lampung. Medula, Vol. 2(No. 2), 1–15.

Supartini, W., & Hindarto. (2016). Sistem Pakar Berbasis Web Dengan Metode Forward Chaining Dalam Mendiagnosis Dini Penyakit Tuberkulosis di JawaTimur. KINETIK, Vol. 1(No. 3), 147–154.

Sutabri, T. (2012a). Analisis Sistem Informasi (Ed. I). Yogyakarta: Andi.

Sutabri, T. (2012b). Konsep Sistem Informasi. Yogyakarta: Andi.

Triandini, E., & Suardika, I. G. (2012). Step by Step Desain Proyek Menggunakan UML. Yogyakarta: Andi.

Tuslaela, & Permadi, D. (2018). Sistem Pakar Diagnosa Penyakit Gigi dan Mulut Berbasis Web dengan Metode Forward Chaining. Jurnal PROSISKO, Vol. 5(No. 1), 17–26.

Urva, G., & Siregar, H. F. (2015). Pemodelan UML E- Marketing Minyak Goreng. Open Access Journal of Information Systems, (2), 92–101.

Yulisman, & Senopati, R. (2019). Rancang Bangun Sistem E-Learning Berbasis WEB di SMAN 1 Singingi. Jurnal Ilmu Komputer (Computer Science Journal), Vol. 8(No. 1), 128–137. https://doi.org/10.33060/JIK/2019/Vol8.Iss1.114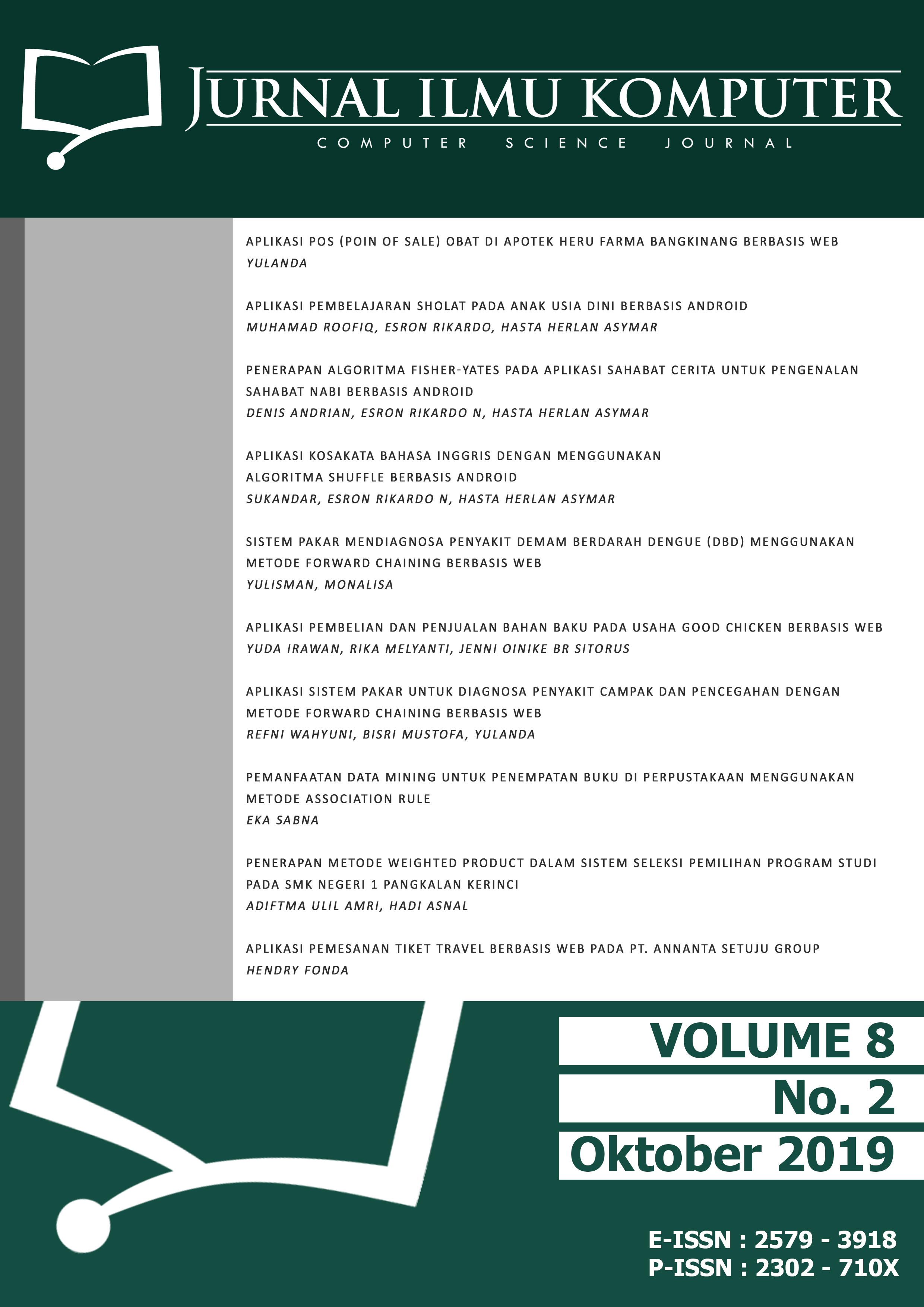 Downloads